12 Oct

Current Announcements

Final Coaches Meeting of 2021

    November 9, 2021

11:00 am

Arlington Knights of Columbus Hall
---
GOLF TOURNAMENT RAINED OUT
---
2021 Softball Tournament Winners
Senior Men 55+  – Grand Prairie Cubs
Senior Men 65+ (Upper Division) – Sachse Rangers
Senior Men 65+ (Lower Division) – Grand Prairie Mustangs
---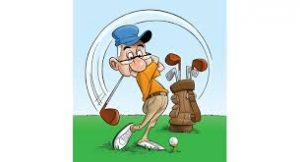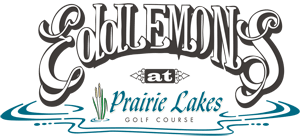 MSCSA Golfers,
I am beginning to receive some team entries for our 2021 Annual MSCSA Golf Tournament to be held Wed, Oct 13th at the Prairie Lakes Golf Course in Grand Prairie.
Deadline for entry is Friday, Oct 1st.
Cost per player is still just $45 which includes access to the driving range, a barbecue buffet provided by Eddlemon's BBQ as well as a round of golf.
It will be a four team scramble.
There will be playing prizes for the 1st, 2nd, and 3rd place teams and additional prizes for longest drive and closest to the hole on a par 3.
You will be able to purchase mulligans before play, $5 each or 5 for $20.
We invite guests to participate but men must be 55 yrs or older and women 40 yrs or older to qualify to qualify to win tournament prizes.
NO OUTSIDE COOLERS ARE ALLOWED ON THE COURSE!
NO HANDICAP SCORING USED.
There is no dress code as far as requiring collared shirts, but tank tops will not be allowed.  All shirts must have sleeves.
Entries can be paid at the golf course the day of the tournament at check-in by either check or cash.  We cannot accept credit or debit cards and there is no atm at Prairie Lakes Golf Course.
Please register either by email to:  tga3@sbcglobal.net
If you chose to prepay, mail your check, team members names, and softball team name to:
2021 MSCSA Golf Tournament
748 Reveille Road
Fort Worth, TX 76108
Checks should be made out to MSCSA.
Tom Athens
---
2021 MSCSA Post Season Tournaments
Senior Men 55+:                      Date:  Sept 27-29     Location:  Hurst Athletic Complex
Senior Men 65+ Upper          Date:  Sept 27-29      Location:  Irving Trinity View Park ( Top 4 teams from each Red &  White Divisions)
Senior Men 65+ Lower          Date: Sept 27-Oct 1   Location:  Arlington Harold Patterson Sports Center ( Blue Division & last 3 teams                                                                                                                                                                                              from Red and White Divisions)                                                                                                                                                               
---
Pre-Tournament Coaches Meeting
Thursday, Sept 23, 2021
11:00 am
Knights of Columbus Hall (Arlington)
---
June 26, 2021
2021 Mid Season Rule Change Decisions
At the Coaches Meeting on June 18, 2021 the following rule changes were approved for the remainder of the 2021 season including tournament play:
For all divisions, players will begin with a 1-1 count and shall be awarded one courtesy foul.  This change will be in effect beginning July 6th through the end of the 2021 season.
Senior Men 55+:   All regulation games will be six inning doubleheaders, except for tournament play then the games will be 7 innings. Due to weather or other causes, a game is considered complete if five full innings have been played or four and a half if the home team is ahead.
Senior Men 65+:    A regulation game shall consist of seven innings.  Due to weather or other causes, a game is considered complete if five full innings have been played or four and a half if the home team is ahead.
Senior Men 65+:      There will be NO "runner's lines at second and third base for the remainder of the 2021 season.
---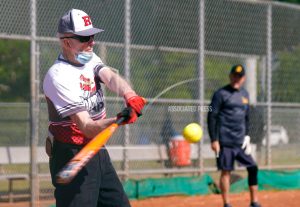 Richardson Road Runners player John Journey was  photographed by the Wall Street Journal during a recent game.
---
2021 MSCSA  Important Dates
                                               Feb 23rd, 2021:                                             MSCSA Coaches Meeting
                                              March 23rd, 2021:                                        MSCSA Coaches Meeting    
                                              March 30 2021  thru June 24th 2021:   Spring League Schedule 
                                              June 25th thru July 5th, 2021:                Break  
                                              July 6th thru Sept 16th, 2021:                 Second Half Schedule
                                              Sept 27th thru Oct 1st,2021:                     Post Season Tournaments
                                              October 13th 2021 (Wednesday)            Annual Golf Tournament    
Until further notice all coaches meetings will be held at the Arlington Knights of Columbus Banquet Hall. 
---
 Player Spotlight
This is the first posting of MSCSA players or coaches that lead an exceptional life and are an outstanding example for all of us.
Crest Whitaker (Mesquite Generals)
https://www.wandtv.com/sports/jacksonvilles-crest-whitaker-continues-to-live-an-extraordinary-life/article_e2fd9800-2880-11eb-8723-e70a7ae1f314.html
---
MSCSA To Offer "New"  70+ Legends Division Start Postponed To 2022
MSCSA will offer a new Division in 2022 for players 70+ yrs of age or players with physical disabilities of any age.  The goal will be to provide a fun and safe opportunity in a more recreational division.   
---
Rule Changes or Proposals for 2021 
Listed are the decisions for rule changes for 2021.  These proposals were submitted by coaches throughout this past season.  Voting was conducted at the Nov 10th Coaches Meeting:
Proposal to change Senior Men 65+ to Senior Men 70+ (Frank Roszell). Grandfathering of players if age changes must be addressed.
Board Decision:  There was consensus that an older division for 70+ players should be offered, however a decision was not made as to whether the minimum age should be 70, 72, or 75.  Grandfathering of players also needs to be addressed.  Working group headed by Vice President Jim Gibbons was created.  ( email: gibbo@flash.net)
Proposal to Eliminate the "runners lines" at second and third base in the Senior Men 65+ Division like has already been done in Senior Men 55+
Runner's lines in the 65+ divisions on a 1st half trial basis will not be used.  Prior to second half play decision will be made as to make it permanent or revert back to runner's lines.
Proposal to change minimum age for women in the Senior Men 65+ from 40 to 50.
Defeated.  Minimum women's ages will remain 40 in all divisions.
Proposal to reinstate the rule of the runner being out for leaving the base too early. (Frank Roszell)
Defeated.  No rule will be added.
Proposal to add a third type of protest. In addition to rules interpretation or ineligible player I would like to add willful non- compliance of established league playing rules. (Tom Athens)
Approved.
Proposal to make a uniform extra inning playing rule for league play. (Tom Athens)
Approved.  Extra Inning league play will mirror MSCSA tournament rule.
Proposal to make it an out if the batter/runner carries his bat to first base or further. This was discussed last year but was never brought up as a proposal.  (Tom Athens)
Defeated.  ASA rule will be observed.  No MSCSA deviation.
Proposal to add the "Mercy Rule" and/or "Flip Flop" rule to league play.
Flip Flop Rule approved.
Senior Men 65+ "adopted" on a trial basis for the 2020 season to dispense with the infield fly rule.  Decision needs to be made to make it permanent or revert back to the established infield fly rule.
Senior Men 65+ Division has made permanent, "No Infield Fly Rule will be observed."
Election of the offices of Vice President and Treasurer. Nominations should be submitted to Board Member Rich Kaczmarski at email: rdkacz@aol.com prior to the meeting.
Treasurer – Jim Delmar and Vice President Jim Gibbons have been re-elected.
Reconsideration of use of Pitcher's Screen (Gary Gray)
Defeated.
Proposed 2021 Season Dates: March 30 – June 24th  (1st Half),    June 25th-July 5th (Break),       July 6th – Sept 16th (2nd Half),   Sept 27th – Oct 1st (Tournaments), Golf Tournament: TBD
Approved.  Dependent on pandemic.
---
2020 Division Champions
Senior Men 55+:                                 Arlington Cubs
Senior Men 65+ (East)                     Sachse Rangers
Senior Men 65+ (West)                   North Richland Hills Hawks
---
NO 2020 POST SEASON TOURNAMENTS
For the 2020 softball season there will be no post season tournaments.  Teams that are in first place in their division at the end of league play will be the league champions for the 2020 season.
---
2020 GOLF TOURNAMENT CANCELED
The 2020 MSCSA  End of Season Golf Tournament scheduled for Oct 21st has been canceled for this year.  With all the protocol restrictions to keep everyone safe, it just wasn't practical to try to have the tournament.  The league has already been in contact with Prairie Lakes and we both are looking forward to having our tournament back in 2021.
---
MSCSA Senior Softball Protocols
For Return To Play
March 28, 2021 (Revision 5)
TEAMS ARE PLAYING AT THEIR OWN RISK
These protocols are designed to re-open senior softball in the safest possible way.  It is recognized that this is a fluid situation and recommendations may change as the situation evolves.  If anyone feels they cannot or will not meet these guidelines, then do not participate in MSCSA softball until such time as you and your team are able to do so or until the recommendations and requirements are removed.  These protocols do not replace or supersede any protocols or restrictions outlined by state or local authorities.  MSCSA Softball must continue to follow those local or state guidelines.
This document is not all inclusive and each player should take any additional precautions to protect their family, fellow players as well as themself.
Our association (MSCSA) will refer to all applicable guidelines including:  CDC, national, state, county, local health departments and facility recommendations for personal hygiene including:
Avoid touching your eyes, nose, and mouth with unwashed hands.
Cover your mouth and nose – with a tissue, if possible – when coughing or sneezing, then properly discard the tissue in the trash.
Avoid close contact with anyone else who is coughing or sneezing or who is otherwise sick.
Wash your hands often, using soap and water for at least 20 seconds each time.
If soap and water are not available, use an alcohol based sanitizer that contains at least 60% alcohol.
Stay Home When Appropriate:  Players and spectators should be instructed in communications to stay home when showing symptoms of COVID-19, have a temperature over 100.4 Fahrenheit, have tested positive for COVID-19, or had close contact with a person with COVID-19.
Symptom Checking:  Conduct pre-game observation and/or questioning of all players about the existence of any COVID-19 symptoms including cough, shortness of breath or difficulty breathing, chills, repeated shaking with chills, muscle pain, headache, sore throat, loss of taste or smell, diarrhea, feeling feverish or a measured temperature greater than or equal to 100.4 degrees Fahrenheit, or known close contact with a person who is lab confirmed to have COVID-19.
People who exhibit COVID-19 symptoms will be asked to leave the park immediately.
Infected or Possible Exposure To COVID-19:  Should a player become infected with COVID-19 or suspect they have been exposed to the virus, that player must notify his coach immediately.  The coach is then required to contact an MSCSA Executive Officer immediately. Coaches should be careful not to violate the "hippa"  rights of the exposed or infected player by releasing their name unless he or she has given permission to do so.   Players on any  team having had close contact with the exposed/infected player should be tested asap and monitor for any symptoms.   Any future games involving the teams self- monitoring  will be canceled for the remainder of that week and the following week before the teams can resume play providing there are no other infections.
Social Contact:
There will be a "no-contact, no handshake policy" to be observed, extending to all physical contact, including customary game – related activities, such as post game handshakes between members of opposing teams. Instead players and coaches should tip their caps or simply say  "good game" without shaking hands, high-fiving, or fist bumping.
Players will be expected to maintain social distancing before and after the game – and during the game when possible.
Plate meetings are limited to the umpire and one coach per team and are to maintain social distancing.
During pre-game warmups, coaches will ensure that players should maintain the six (6) foot distance if possible during warmups and should only have any close contact during the actual game.
Dugout Rules:
Players and coaches are to maintain 6 feet of distance and are allowed to be outside of the dugout to maintain spacing.
There will be NO community water jugs. Each participant will be responsible for bringing their own water.
The coach will ensure that the team will clean and dispose of all trash from player seating or sideline areas when departing practices or games.
Game Play:
Players and coaches are asked that whenever possible not to share equipment. If equipment is shared, it is to be sanitized before the next use.
There will be a new ball for each game.
After a ball has been introduced into a game, it will be sanitized at the end of each half inning.
Players and coaches are allowed to wear face protection (masks or face shields) during games and it is recommended that they wear face protection between games.
No seeds, chew, or spitting.
 Umpires/coaches will practice social distancing and will not be required to wear masks or face shields but may opt to do so.  Cloth facial coverings are recommended but not required.  Facial coverings must be of one color, not distracting and no designs.  Pitchers cannot wear optic yellow face coverings.  (Amended March 28,2021)
Spectator Rules:
Spectators will be requested to bring their own chairs – bleachers may be unavailable, or used as part of the expansion of the dugout.
It is recommended that spectators wear masks.
Spectators are required to maintain six (6) feet of social distancing.
Waivers:
Players/teams will be required to sign a waiver recognizing the potential danger of contracting illnesses during league or any tournament play accepting the responsibility to follow COVID-19 guidelines, procedures, recommendations and protocols.
Tom Athens                                                                                                                                                                                                    MSCSA President
---
---