18 May

Current Announcements
---
1980 – 2020:   40 Years of Senior Softball in DFW          
Start of Season and all MSCSA functions canceled or delayed due to the COVID-19 Pandemic in the Metroplex.    Any updates will be posted here.  Emails will also be sent to all coaches.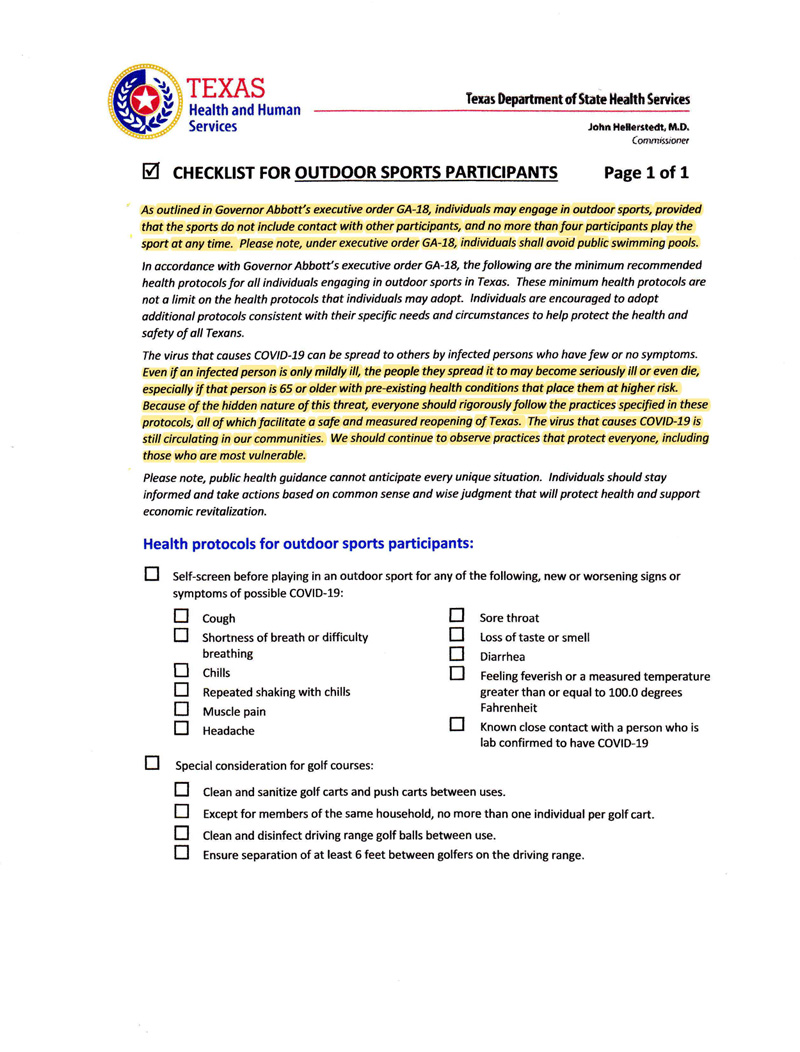 ---
MSCSA Update – May 18, 2020
Coaches & Players:
Governor Abbott held a press conference today moving Texas into Phase 2 of Open Texas.  As far as outdoor sports there was nothing in the May 18th Protocols specifically addressing adult softball.  Although throughout the various protocols were statements of the enhanced risks for anyone age 65 or older and the Governor recommended that those Texans age 65 or older continue to stay at home.
Minimum Health Standard Protocol (May 18th) for Youth Sports

Operators

state:
Effective

May 31, 2020

, youth sports may begin holding practices without spectators other than one parent or guardian per participant, as needed. Those sports may begin holding games or similar competitions, with or without spectators, on or after

June 15, 2020

. Spectators should maintain at least 6 feet social distancing from individuals not within the spectator's group.
After the press conference, I contacted both Dallas and Tarrant County Health Departments to try to get more information.  I was told that at this time it would be up to the different cities to make the determination if and when the fields would be open.
But as you can see above even youth sports should not practice before May 31st or have any competition before June 15th.
If you are interested in checking out the protocols, I have attached the link below:
 MSCSA Update  – April 30, 2020       
I know a lot of you are like me having "cabin fever" especially with the weather getting nicer and are curious about the status of senior softball.  At this time all I can pass on is what you probably already know.  That is city parks and recreation departments have softball fields closed to comply with Governor Abbot's Phase 1 Executive Order.
We on the executive committee are working on a plan to try to salvage part of the 2020 season. If and when fields become available and it is decided that is safe to play, we are hoping to play a fifteen week schedule beginning on July 7th and ending on Oct 15th.  Remember that this is our hope and that it all depends on the COVID-19 virus and field availability.
During Phase 1, Museums, libraries and businesses operated by a sole proprietor can also open

during phase 1, as can outdoor

sports facilities, as long as no more than four people play together at a time.
After a little more than two weeks of the new guidelines which begin this Friday, May 1st, the state will evaluate if it should move to phase 2, which will open even more business, in addition to allowing businesses already open to increase their capacities.   This determination is scheduled to be made around May 18th.
Many of the various parks and recreation departments are waiting until after that May 18th determination to choose their course of action.  Not all cities may opt to open fields at the same time.
I will try to keep the website updated as best I can.
Tom Athens
President MSCSA
---
From Brad Swann (Coach of the Mesquite Ol Pros)                                                                                                            February 17, 2020
A player from our team was just told he has prostrate cancer and it is pretty far along.  His insurance doesn't cover much of the cost and the family has set up a gofundme page.  His name is Cas Irvin and has played for the Ol Pros many years.
Cas is a retired Life Skills teacher for Kaufman ISD in Texas and even today the schools call him to help out because of his vast experience. He has made giving to special needs children his life's mission.  He has been named Teacher of the Year but more then the accolades he LOVES helping these kids!
Now we need help so we can make sure he kicks this and has the money to pay the doctor's bills without being turned away at the door because we do not have our co-pays, co-insurance, or have met our deductible (which we have not and it is over $4000).
We need help. I am embarrassed to ask for it but I am at my wit's end about where we can get the money needed for treatment. Thank you if you can help us!
Thank you again to everyone who has helped or is helping.  If the hormones are not covered or we (Again!) have high co-insurance costs for each  series of radiology treatments (assuming more than 1 series)  we at least are working toward having enough money to get that started thanks to you! My husband asked that you keep him in your prayers. Thank you.
Fran Graves-Irvin
---
2020 MSCSA  Important Dates
February 20, 2020  – MSCSA Coaches Meeting
March 24, 2020     –   Umpiring Clinic @ Mike Lewis Field in Grand Prairie ( David Martin) –

CANCELED DUE TO COVID 19
March 26, 2020    –    MSCSA Coaches Meeting deadline for team rosters and player fees –

CANCELED DUE TO COVID 19
March 31 thru June 25, 2020 – First Half of Season (Spring Schedule) 

SEASON ON HOLD DUE TO COVID 19
June 17, 2020          –    MSCSA Coaches Meeting (Wednesday) 
July 7 thru September 17, 2020  –  Season Opener (Adjusted Season)
September 21 thru Sept 23, 2020  –  Senior Men 55+ Tournament
September 28 thru October 2, 2020  –  Senior Men 65+ Tournaments
October 21, 2020      –    Annual End of Season Golf Tournament
As in the past all meetings will  be at the Veterans Center in Grand Prairie starting at 11:00 am
---
2019 League Winners
Senior Men 55+       –      Mesquite Knights
Senior Men 65+ East   – Sachse Rangers
Senior Men 65+ West – Hurst Flyers
2019 Tournament Winners
Senior Men 55+        –           Mesquite Knights
Senior Men 65+ "Upper" – Sachse Rangers
Senior Men 65+ "Lower" – Arlington Angels
---
2018 Division Winners
A Division  –  Arlington Cubs
B Division – White Settlement Grays
C East Division – Sachse Rangers
C West Division – Southlake Crusaders
Because of bad weather the A & C Division Tournaments had to be canceled for the 2018 season.